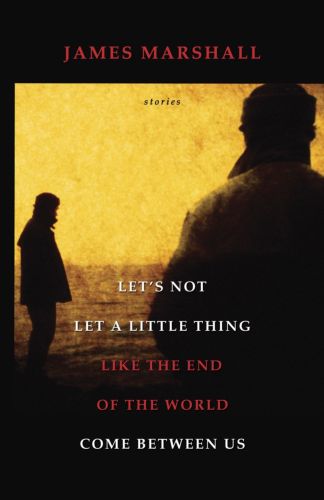 A Jesus Christ look alike has trouble with his girlfriend . . . a bodybuilder does sit ups from the window of a speeding car . . . a burn victim and his freakishly beautiful love interest creatively loot homes while a forest fire approaches . . . a female cult member tries to convince a young man to let doctors harvest his recently-deceased wife's organs . . .
Short-listed for the Best First Book category in the Caribbean and Canada region of the Commonwealth Writers Prize.
Short-listed for the ReLit Award for the short fiction category.
Praise for Let's Not Let A Little Thing Like The End Of The World Come Between Us:
"Marshall engages the reader, builds suspense and maximizes the climactic impact" - Quill and Quire, January, 2005
"Marshall mates theme with character and hits his stride." - Globe and Mail, December 18, 2004
"Marshall's interest is in showing his characters on the edge, grappling with forces out of their control." - The Georgia straight, March 10-16, 2005
"Rich with descriptive detail, you can't help but be fascinated by the visual images he creates." - Monday Magazine, March 10-16, 2005
"The title … telegraphs a certain sardonic sense of humour that pervades most of the stories." - Winnipeg Free Press, January 30, 2005